2 答案
Here are the steps to follow in order to deduct your products from your stocks: 
1. Create a new operation type in Inventory: Inventory -> Configuration -> Operations Types -> Create
2. Select an Internal Transfer as "type of operation" 
    Specify a code + the name of the operation type 
    The default Source Location from which the stock will be taken: Here WH/Stock
    The default Destination Location: Virtual Locations/Scrap 


3) The operation is now visible on the Inventory dashboard.

4) Enter Deduct From Stock -> Create -> Add your product(s) & Validate
5) Once validated, the internal transfer is carried out. The stock of this location is reduced by the quantity mentioned for the selected product(s) and the scrap location is increased by these products.
6) You can track all the internal transfers in Configuration (Inventory) -> Locations -> Remove the filter -> Virtual Locations/Scrap -> Current Stock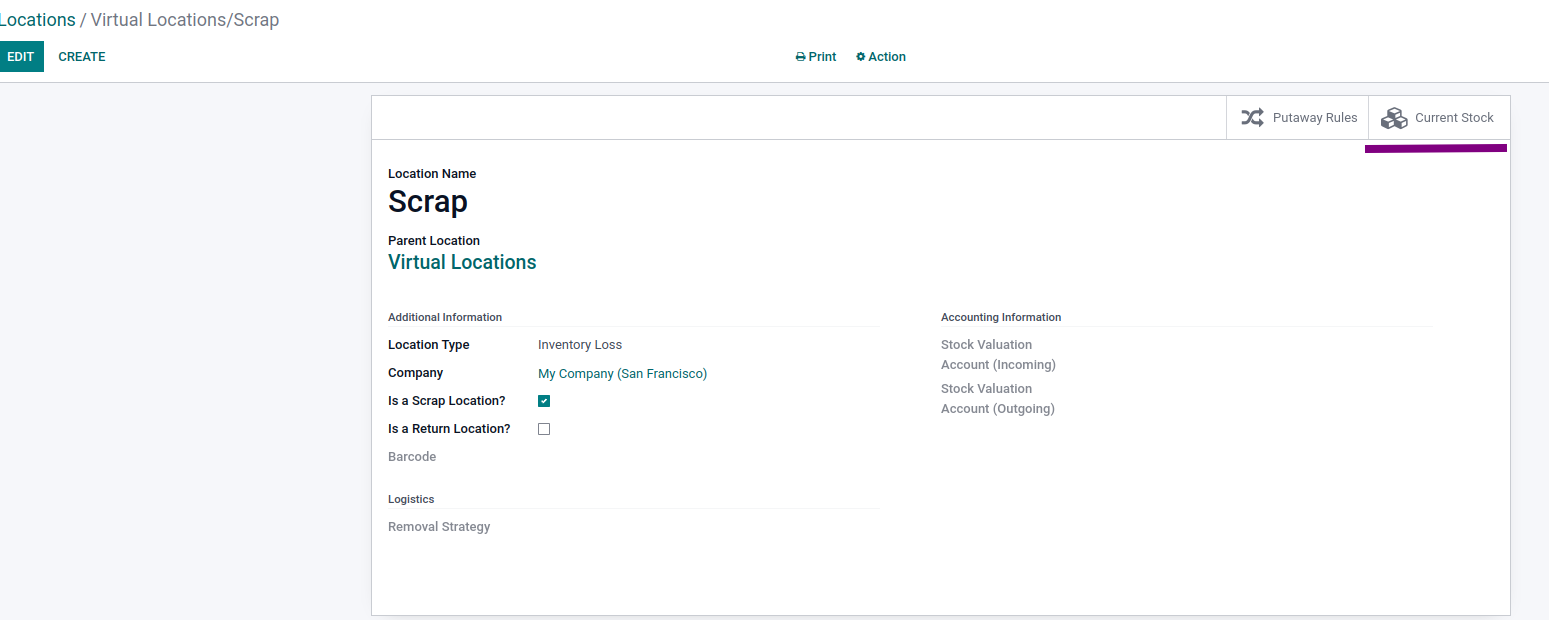 If multiple locations and need to work with barcodes
1) Activate in Inventory -> Configuration -> Barcode Scanner
2) Create one operation type (as shown at point 3) for each location you have by selecting the correct Default Source Location + Add a barcode to each of them

3) Print the barcode of each operation type

4) Scan it (with your scanner or phone), then scan the product & Add the quantity to remove -> Validate the transfer
Setup a new Location "Internal Use" which is of type "Inventory Loss" and configure perhaps a "research and development" expense account defined to manage the value of inventory sent through the outgoing stock valuation account.
Options:
Scrap - one product at a time
Internal Transfer - multiple products at a time**
If your gloves, syringes, masks and chemicals are valued at $100 - then this is the amount credited from the stock valuation account (at the same time reducing inventory quantities of all products used) and there will be a corresponding debit to the expense account.
**if not all products are used, they can be returned, which will increase the quantities back, credit the expense account, and debit the inventory value back up.