Company: VDB Nutrition nv
Location: Vorselaar, Belgium
Industry: Healthy food, sports nutrition and supplements
Partner name: Digimedio
Main Apps implemented: sales, marketing, email-marketing, POS, inventory, employees, customers, time off, invoices
Company size: 32
Number of users: 20
Hosting Type: Cloud – external, Digimedio
Overview
VDB Nutrition NV promotes protein-rich food and snacks from its own label 4Protein that focus on weight loss. They sell their products via retail, wholesale and webshops. In the fall of 2020, the company realized it was no longer sustainable for them to continue using their custom legacy system. The company was growing however instead of their system adapting to this growth, it was bringing issues with stock, scattered data and slowed down performance. Working in collaboration with implementation partner Digimedio, VDB Nutrition's Odoo solution was deployed over a 7-8 month period. Thanks to Odoo, the company now has saved a lot of time, has everything online and a quick and efficient communication method for both internal and external communication.
Key challenges and requirements
VDB Nutrition and Nutraya are enterprises that grew from a single small shop run by a family to a larger group in Antwerp with +/- 30 staff members. The two businesses operate via retail, wholesale and web shops. Nutraya was established first and in 2012, VDB Nutrition was established as an answer to the needs of many of Nutraya's customers; a way to lose weight in a responsible way whilst also pushing their performance. VDB Nutrition focusses on weight loss based on a protein diet. In its shops, all services are provided for free, and a large range of products is offered for sale. In extension, both companies also offer their products online.
As the company grew over the years, the software for its shops and the web shop needed to grow with them, however it did not and it began to show. Every extra implementation started to cause issues with existing processes. The software began to be extremely slow sometimes which then caused frustration not only for staff, but also for customers waiting at the register. There was also no real communication between the software in the retail stores and the web shops. This caused a lot of issues with stock supply. As the company was expanding, VDB Nutrition wanted to offer their products to customers in other countries so they needed the webshops translated and this wasn't possible with the legacy system.
The software VDB Nutrition was previously using was custom made. Their programmers told them they didn't want to add any additional options or provide more support in case they'd like extra adjustments. This caused VDB Nutrition to realize how dependent they'd become on one party and they didn't want to risk having to start the process from scratch due to the unique customization the previous programmers had implemented. The company decided that they would only work with existing programs from then on and only have the programs slightly adjusted to their specific needs.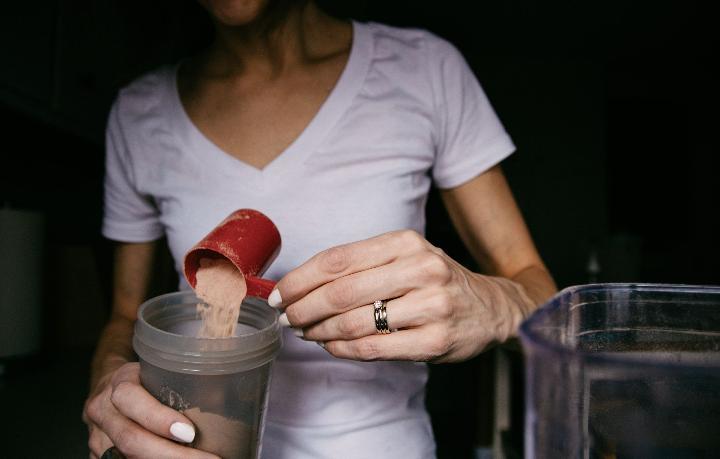 Implementation
In fall 2020, VDB Nutrition realized the situation they were in was no longer sustainable for them to do business in a proper way. The frustration amongst all parties grew to a level they could no longer ignore so they decided to begin the selection process for a new software system that would best fit their current and growing needs and still be affordable. After reviewing a number of software systems, the company decided to go for Odoo and began interviewing different implementation companies.
In Q2 of 2021, the company agreed on using Digimedio as their implementation partner. VDB Nutrition began the implementation process by discussing with Digimedio all their needs for this program so they could come to a total cost. At the end of June they narrowed down all costs by comparing current ways of work with the solutions Odoo standard offered, so they could limit customization. In August 2021, they began to look at timing, testing, and deciding who would do what during the project (as multiple parties were involved). Strict deadlines were implemented for all apps and their testing.
Almost every month since August 2021, there was a sprint in which the developers finished one or two apps in Odoo that needed to be tested, criticized and adjusted based on findings. Meanwhile they also gave the management and admin users training on how to use Odoo. This went on until December 2021, when all apps were handled. By mid January 2022 Digimedio organized a training for all staff so that everyone could get familiar with Odoo and begin trial runs in the test environment before the project went live. This gave Digimedio great input on what needed to change as all staff members had different backgrounds and preferences. In February 2022, the project went live.
Solution and Results
VDB Nutrition chose a range of apps, but the most important ones today are Sales, POS, Inventory, Email Marketing, Invoicing and Planning. 
POS: replaced the previous software the company had in their shops. The difficulty for retail sales staff in the shops is that most products they provide don't have very clear packaging. A typical thing for protein products where marketing is not the most important drive for suppliers. Odoo POS allows the company to choose the right references based on name, category or picture and is therefore a huge help for every employee and minimizes the time required for retail staff to help their customers.
Inventory: in the past, a lot of time was wasted because retail, web shops and orders didn't correspond with each other so it was difficult to see the actual stock of products without checking a number of different documents and programs. Thanks to this app, today it's easy for the company to manage their warehouses and stock supply for shops, web orders and wholesale business. 
Email marketing: was previously done through Mailchimp but it didn't allow VDB Nutrition to have a record of which customers received emails that were sent. In Odoo, emails are completely custom and tailored to the company's design thanks to the many beautiful outlays available. To check the effectiveness of the results and adjust based on those is also very useful and easy to do within Odoo.
"It makes such a difference to have all these different processes a company is facing combined at one shared platform. It makes it more efficient to find links between each process and to follow-up on customers and staff." 
- Nathalie Van den Broeck, HR & Marketing Manager at VDB Nutrition
Invoicing: previously the company was using a platform that didn't have any automated links to web shops, shops or orders. It sometimes caused a delay between when an order was packed and sent and the time the invoice was sent to the customer. This in turn caused a delay in payments. With the invoice app in Odoo a lot is now automated, such as the reminders for outstanding balances. 
Planning: With a growing business, the number of staff was increasing a lot making it difficult and challenging for the company to manage work schemes and holidays without missing some important information. It took admin staff many hours to resolve this puzzle every week because many staff members don't have identical work contracts with some working part time. Also communication of the planning and holidays was quite a time consuming task to perform on a monthly basis, especially when last-minute changes arose due to illness or other unexpected causes. The planning app has given more transparency within the team and has given employees more independence in arranging their time off.
Thanks to Odoo, VDB Nutrition has saved a lot of time with all the different processes of the business being brought together on one platform. It has been such a big change with how they previously worked. But more than that, the company is now working more digitally and uses way less prints when communicating with accounting, customers and colleagues. With everything being online and with the easy to use app provided for mobile devices, VDB Nutrition staff can now quickly communicate with the company and one another.
About VDB Nutrition nv
VDB Nutrition NV promotes protein-rich food and snacks from its own label 4Protein, among others, but also developed a series of high-quality supplements under its X-Nutri brand, such as the well-known X-Nutri Immune Defense. It also distributes the well-known sports brand Concap in all its stores. 
About Digimedio
Optimizing your company and making it future-proof, you need a strong ERP and IT partner for that. Automation software that does what it should and a team that proactively guides you in your digital growth. With apps you need, without strangulation contracts or financial outcry. We call it Freedom of Technology, or working together with integrity and transparency.